Container Handling with Container Terminal Doesburg
Reliable and Flexible Logistics Partner
Container Terminal Doesburg (CTD) is a leading logistics hub where container handling goes hand in hand with reliability, efficiency and sustainability. Located in the heart of Logistics Valley Liemers-Achterhoek, our terminal acts as a strategic link for flawless intermodal transport, with connections to both the greater Gelderland region and the European hinterland.
With advanced technologies and a wide range of services, including rapid handling, secure storage and various Value Added Logistics, we offer added value to companies. The result is optimal time and cost savings, allowing customers to fully focus on core activities, while achieving a flawless flow of goods.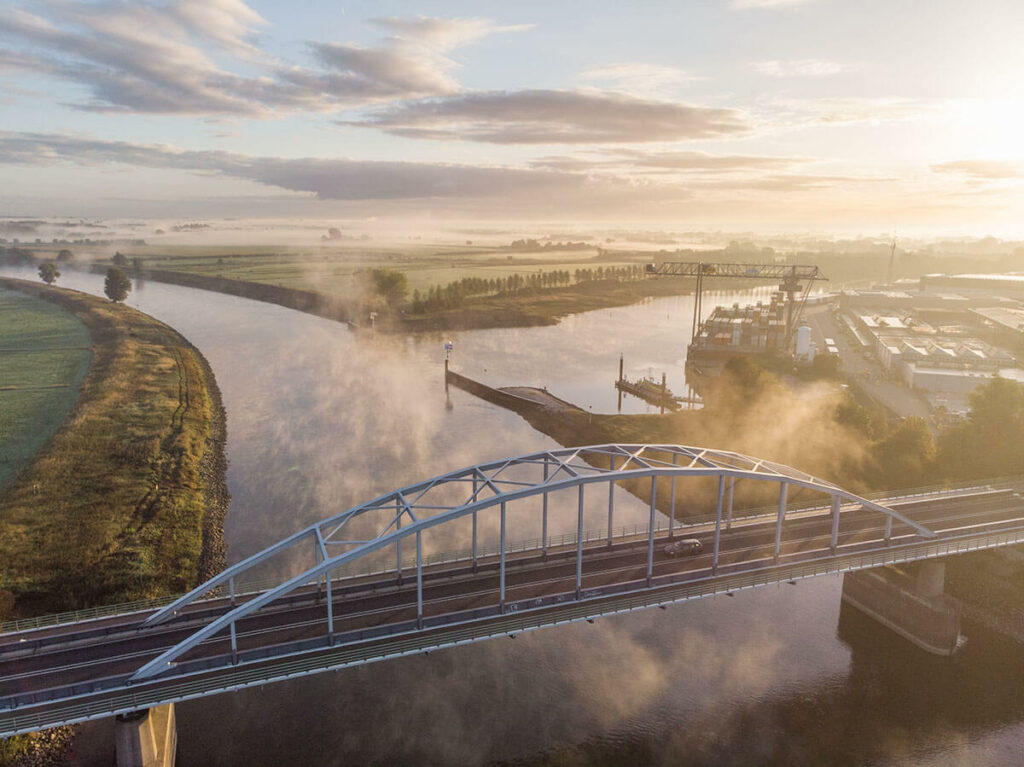 Strategic Decoupling Point
Container Terminal Doesburg is a powerful decoupling point for quality logistics with a strategic location in the heart of Logistics Valley Liemers-Achterhoek, in close proximity to key connecting roads such as the A348, A12 and A50. Our strategic position between Apeldoorn, Arnhem and the German border offers companies the opportunity to streamline their transport routes, increase value chain efficiency and realise significant time and cost savings.
Our Port of Gelderland is a logistics hotspot that connects directly to both the Randstad and the Ruhr area. As a result, we guarantee excellent accessibility and a seamless flow of goods, leading to minimal waiting times, faster throughput and less congestion. In doing so, CTD supports companies in their pursuit of sustainability by reducing their carbon footprint.
Efficient Container Handling and Complementary Services
Container Terminal Doesburg takes an efficient approach to container handling, resulting in significant time and cost savings. The deployment of advanced technology such as an electric gantry crane with recovery capacity and a Reach Stacker facilitates the smooth transhipment of both full and empty containers, while advanced security systems ensure reliability and safety.
CTD stands out for the added value it offers with its Value Added Logistics. This comprehensive service includes gas analysis, active venting, connection of reefers containers (refrigerated transport), temporary storage and physical customs control capabilities. These additional services allow customers to focus on their core business, while CTD ensures a streamlined and optimised logistics process.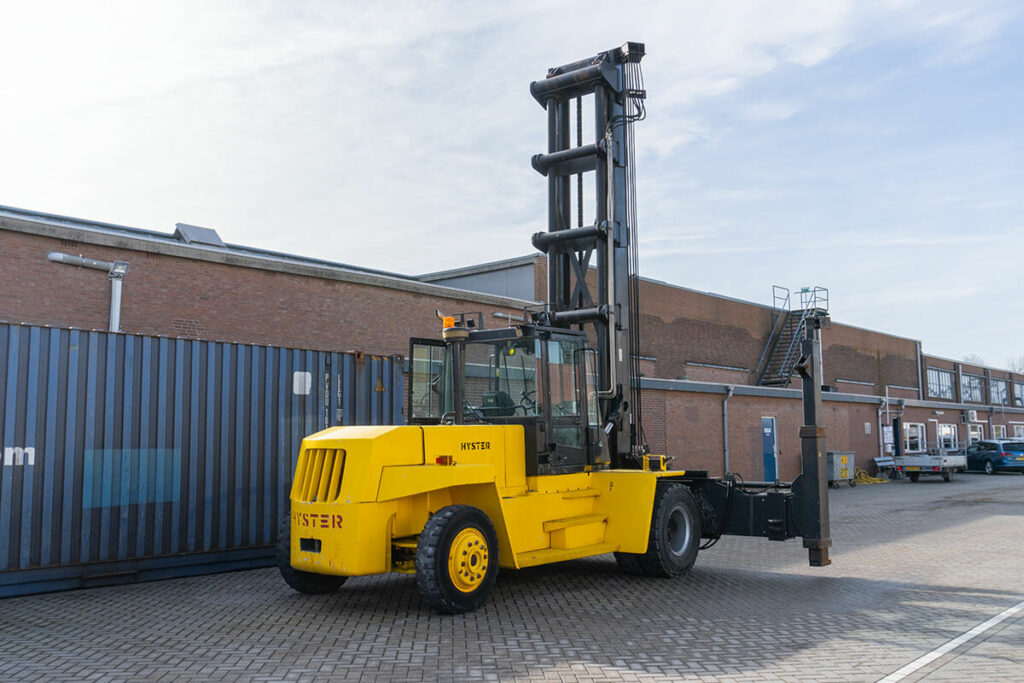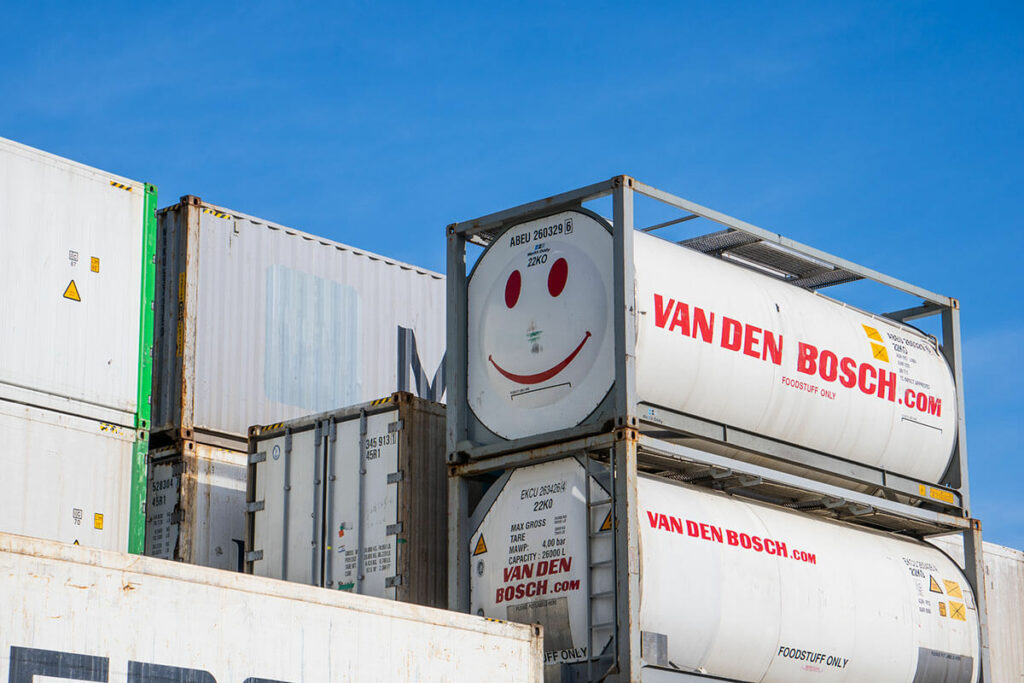 Multimodal success for Van Den Bosch Logistics
The cooperation with Container Terminal Doesburg is an essential part of our successful and efficient logistics chain. The route from the Netherlands to Ireland, and back again, has achieved an exceptional degree of efficiency thanks to CTD. After the initial truck transport from Borculo to Doesburg, there is no more trucking to Ireland and back. For us, this is the strength of multimodal transport with CTD.
Thanks to the efficient container handling and CTD's strategic location, it is possible to transport our goods quickly and reliably from point A to B. We also benefit from the sustainability of this approach, which fits in with our goals of reducing our carbon footprint."
The Processes of Container Handling
Container handling plays a crucial role in the global logistics chain, in which efficiency, safety and reliability are paramount. Container Terminal Doesburg maintains strong ties with the leading ports of Rotterdam and Antwerp, from where sea containers are transported to or from our terminal via barges.
Upon arrival or departure at our terminal, containers are transferred to other modes of transport, such as trucks or trains, with the utmost care and efficiency. Every detail of this process, from container reception to handling, is planned and executed with extreme precision, leading to optimised logistics processes and significant savings for our customers.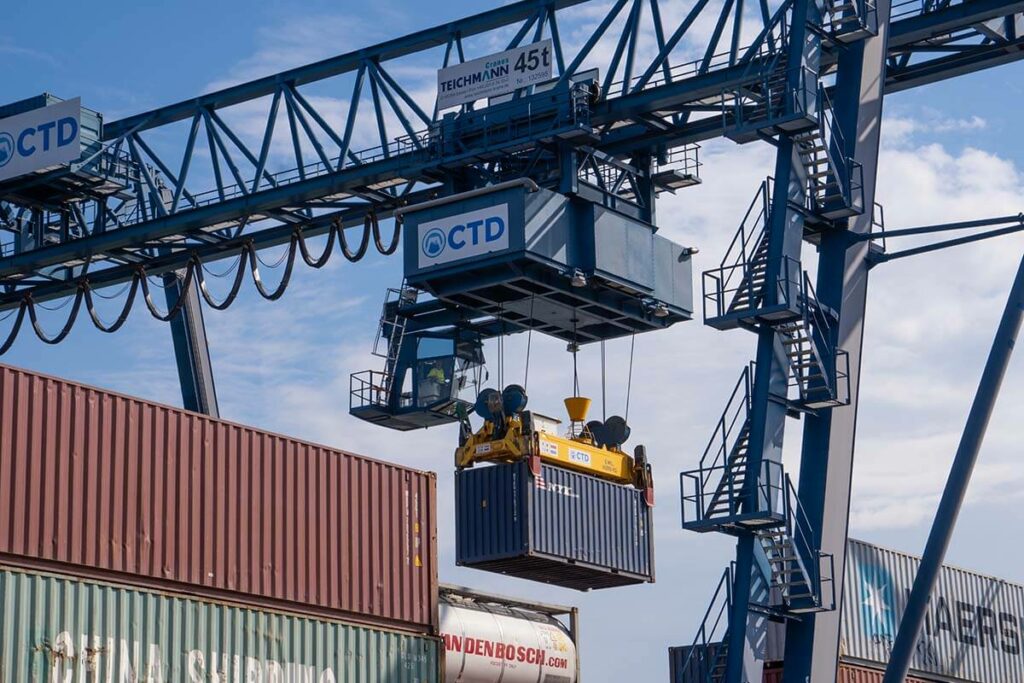 Future of Container Handling with Sustainable Transport
Container Terminal Doesburg (CTD) not only focuses on realising efficient and reliable container handling but also takes the lead in the field of sustainable transport. As a proud player in the green Arnhem-Nijmegen metropolitan region and the Gelderland corridor, we feel a strong responsibility to contribute to global and European sustainability goals.
Our commitment to reducing environmental impact is evident in our choice of cranes with recovery capacity, use of shore power, development of an e-truck and a CO2 calculator. Thus, CTD demonstrates that the future of container handling is not only efficient, but also sustainable.
Reliable, Flexible and Sustainable Container Handling Solutions
In a world where efficiency, reliability and sustainability are the keys to successful logistics, Container Terminal Doesburg stands out as a leading partner.
We have the technology, expertise and motivation to take container handling to the next level. Don't wait any longer and experience the benefits of a seamless logistics operation today. Contact us and take the first step towards more efficient logistics processes!