Sustainable Transport with Container Terminal Doesburg
Proven Climate-neutral Pioneer
As a full-service container terminal, Container Terminal Doesburg (CTD) is committed to sustainable transport. In every business activity, sustainability and quality go hand in hand. We demonstrate this through innovations such as our own CO2 calculator and the development of an innovative e-truck. Our commitment to sustainability goes beyond words – we put it into practice.
As a proud part of the green Arnhem-Nijmegen metropolitan region and the Gelderland corridor, we are therefore determined to contribute to global and European sustainability goals. We limit our environmental impact by deploying cranes with recovery capacity and using shore power. Moreover, our inland waterway transport results in less congestion and on average 40% lower CO2 emissions than land transport.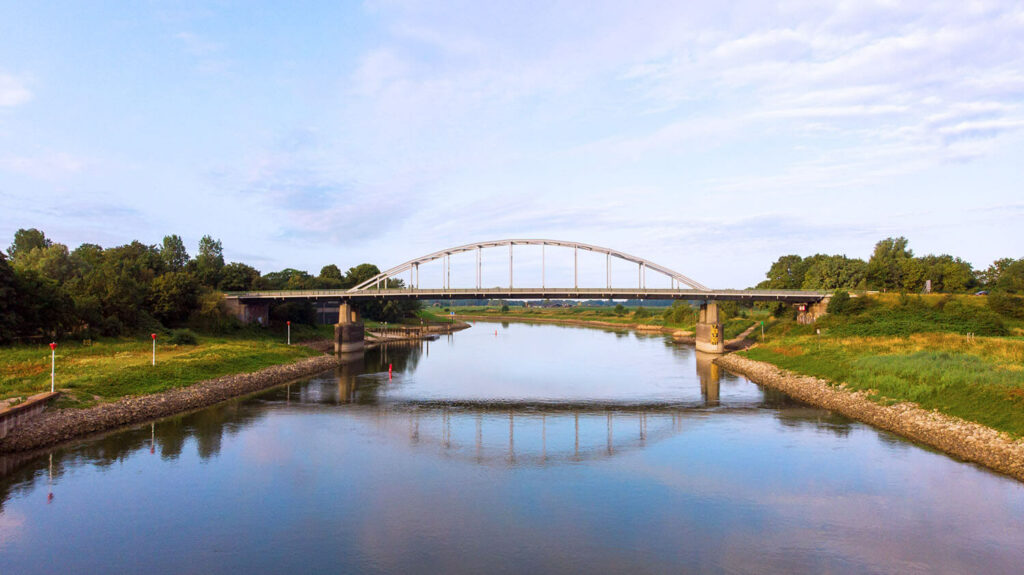 From Road to Water:
the Efficiency of Intermodal Transport
CTD aims to reduce road transport and optimise the efficiency of inland shipping. This intermodal transport makes optimal use of the various modes of transport to move goods as efficiently as possible.
This transition from road to water is a crucial part of our sustainability strategy, which aims to make transport greener and more efficient. By opting for water transport, we not only reduce road congestion but also significantly reduce CO2 emissions.
Sustainable Container Transport
"As one of the largest producers of frozen potato products worldwide, we at Aviko are always looking for ways to reduce our carbon footprint while increasing our efficiency. This is how we bring joy to tables around the world in a sustainable way! Our partnership with Container Terminal Doesburg (CTD) has helped us achieve exactly that in recent years, including the joint development of an innovative e-truck. In CTD, we have found a partner who is as driven as we are to pursue sustainability in every business activity. We look forward to many years of successful and sustainable cooperation."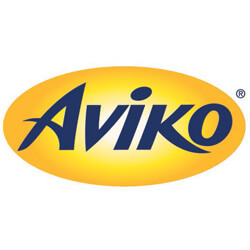 The CO2 Calculator:
an Innovation for Measuring Emissions
Based on our own research and the GLEC model, we have developed a CO2 calculator so that our customers can easily see and optimise their emissions.
With this, we are taking a big step in providing insight into emissions. Contact us for a visual example of your emissions!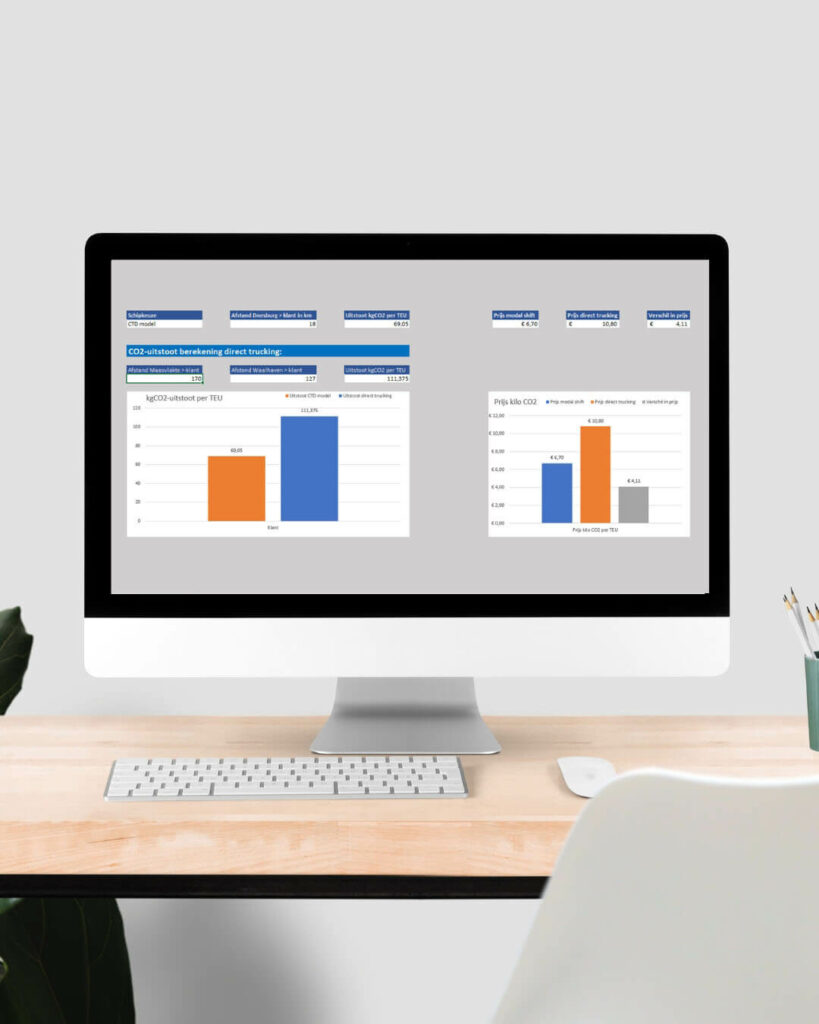 The Future of Sustainable Transport
At Container Terminal Doesburg, the focus is on the future of sustainable transport. We are driven to achieve a CO2-neutral office by 2040, supported by the Green Footprint 2040 ambition. By analysing our own carbon footprint and investing in green funds and tree planting, we aim to reach 90% of this target already by 2030.
In addition, Doesburg is actively preparing for the Corporate Sustainability Reporting Directive (CSRD), despite the fact that the first reporting is not yet required until 2026. These efforts complement practical changes such as the transition to green electricity and the use of an electric vehicle fleet, contributing to a greener transport future.
Recovery Capacity and Shore Power
CTD has also invested in innovative loading and unloading equipment. Our cranes have a recovery capacity that saves energy while loading and unloading containers. This captured energy is reused, significantly reducing the overall energy requirement of the process.
In addition, CTD uses shore power, allowing barges to connect to the electricity grid during loading and unloading, instead of using their own engines. The use of shore power leads to significantly lower fuel consumption.
More Sustainable Transport with the E-truck
In collaboration with Aviko, CTD is working on an innovative e-truck. This electric truck has a range of 250 km and is equipped with a 130 kW permanent magnet motor, a hydraulic system and a regenerative braking system for optimal energy consumption.
This pioneering technology transforms our logistics processes, allowing us to provide superior service while fulfilling our environmental responsibility. On to more sustainable transport!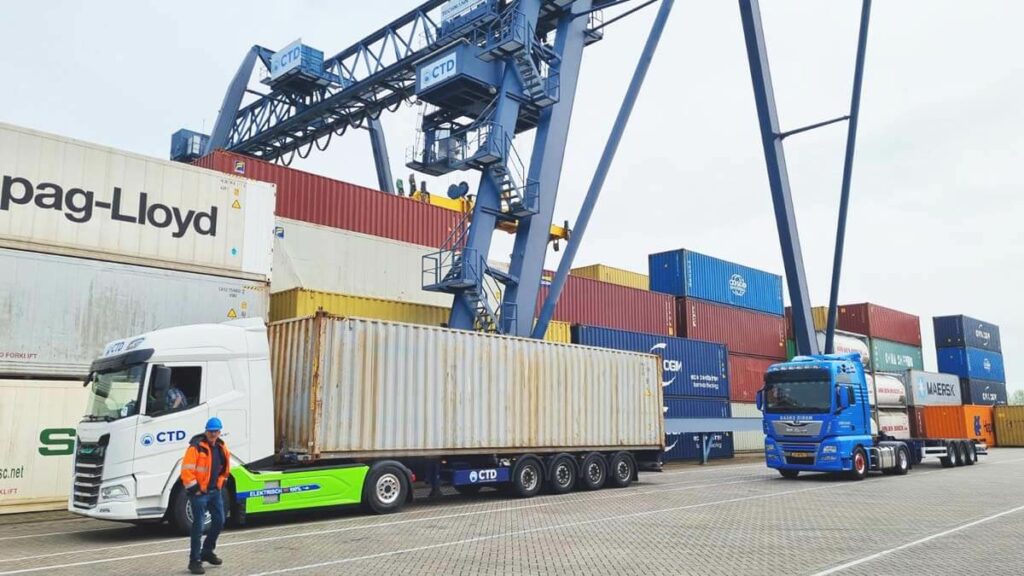 Become Part of the Green Transition
We invite you to join us on this exciting journey towards sustainability. Together, we can promote sustainable transport, paving the way to greener and more efficient logistics processes.
Get in touch to learn more about our efforts and how you can play a role in shaping a greener future for your supply chain. Discover how we at CTD not only provide services, but add value to the entire supply chain. Experience the difference we make in the world of sustainable transport and quality logistics.